The McAllen Migrant Education Program will strive to provide appropriate services to support the educational experience of this highly mobile population. Support services will address their specific needs in a coordinated and efficient manner together with the assistance of the LEA. Efforts will be made to address the educational disruption, poverty and language barriers that migrant children face by utilizing the federally mandated seven areas of focus.
The purpose of the Migrant Education Program is to provide migratory students opportunities to achieve excellence and equity in the classroom.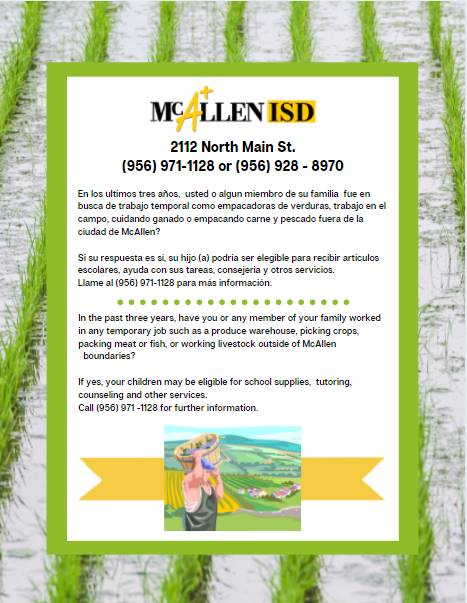 Title I – Migrant is a Federal program for migratory students that supports:
High-quality and comprehensive educational programs

Not penalizing students who move among the States

Providing education services that address the needs in a coordinated and efficient manner

Providing full and appropriate opportunities to meet the State academic content and standards

Providing programs that will assist in overcoming factors that might inhibit the ability to succeed

Ensuring that students benefit from State and local systemic reforms.
Department Highlights and Rewards
100% senior migrant graduation rate from 2015 to 2018

Migrant Director of the 2010 Year in Texas-Dr. Cynthia Bebon

2012 NGS (New Generations Systems) Clerk of the Year in Texas-Irma Saenz

2012 Top Migrant Student of the Year in Texas (1 of 5 Students)-Cynthia Fregoso (also 1st Valedictorian of Early College ACHIEVE High School)

2017 Top NGS Clerk of the Year in Texas-Veronica Montemayor
The Migrant Program must be planned and designed with the involvement of parents and teachers of the participating children. The ultimate goal is "Student Success" by recruitment of students in order to assist them by providing academic and support services that will alleviate the obstacles they face due to their migratory life style.