Digital Learning and Library Services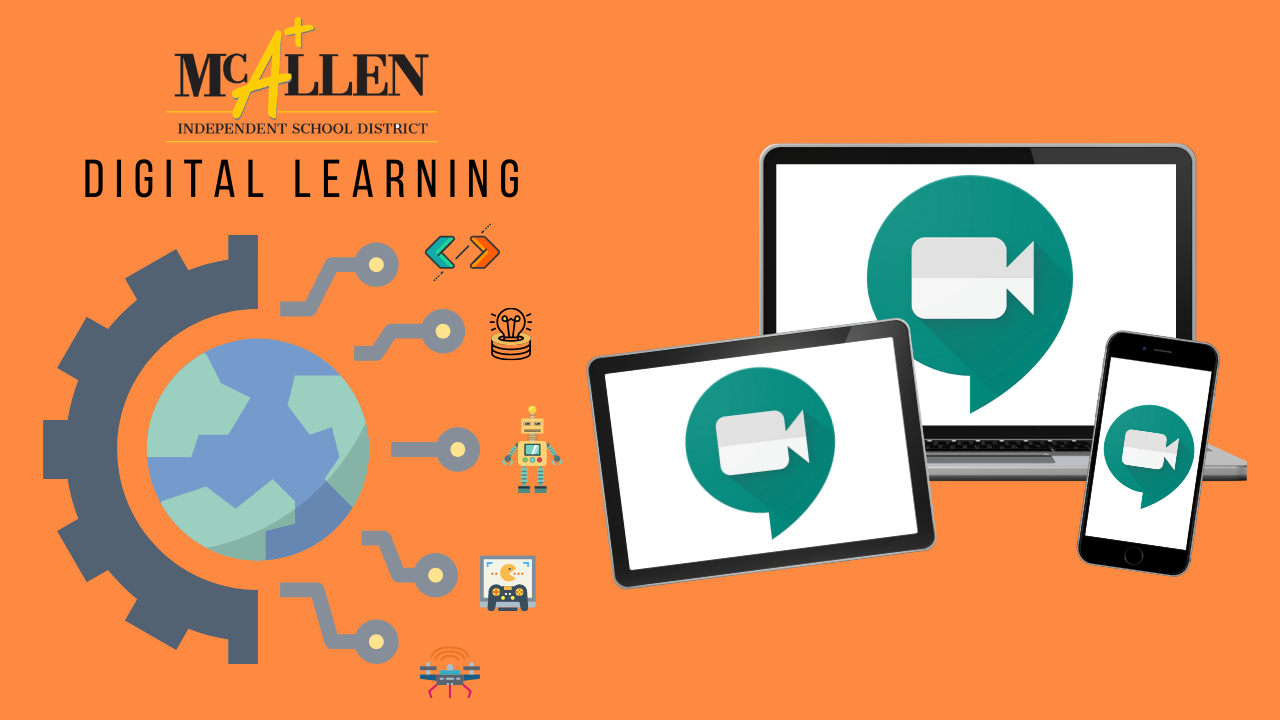 Students entering and attending the McAllen Independent School District campuses will graduate and live in the 21st century. Their needs will be dictated by a rapidly changing society. It is our responsibility to prepare them to live, continue to learn in, and adapt to, this change. Decisions made today will have major effects on the quality and effectiveness of the educational process. Technology is a major force in today's world; consequently, students must be prepared to utilize technology in education, business, and industry. It is imperative that the McAllen ISD Schools continue to accept the responsibility to educate students and staff in the use of technology and provide access to the tools both for the educational process and the efficient management of the instruction. McAllen ISD has developed an innovative teaching and learning framework for increased student academic achievement leveraging powerful new technologies, providing new opportunities to learn, increasing productivity, and developing authentic learning processes that challenge students to make a difference. Our economy, our politics, our culture, and even our family life will be forever transformed. Our plan is a synthesis of the visions and recommendations provided by the McAllen ISD Technology Committee, insights shared by administrators, teachers, parents, and community members, reviews of available literature, meetings with consultants, and coordination with educational agencies. The goals and objectives contained herein can all be achieved. The technology plan is a flexible document and will necessarily evolve to meet the ever-changing needs of the district. It is the district's strongest belief that through the implementation of this plan for the use of technology, the goals of excellence in teaching, learning and effective management within McAllen ISD are further advanced.
McAllen ISD's Strategic Plan includes: STRATEGY 6: FUTURE-READY STUDENTS
We will foster principled students who learn, adapt, and innovate in response to their ever-changing environment.
6.1 Create a student-led mentoring program on ALL campuses for every student.
6.2 Implement a capstone community service component at each grade level that is focused on adaptive and innovative ideas that identify and resolve real world issues.
6.3 Create teacher trainings to facilitate the use of innovative and adaptable technologies to teach future-ready students.
6.4 Implement non-traditional, e.g., block-type scheduling to allow greater flexibility for students and teachers.
The mission of the MISD libraries as an agency of both instruction and service is to encourage reading for pleasure and information, to support the curricular goals of our campuses, to teach appropriate research skills in an integrated context, and to aid other district libraries. As the term "library" has a universal recognition defining a place set aside to house books and other print materials, technology, and audio visuals it will be used in this document instead of "resource center", "library ", or other similar terms. "Librarian" will denote the person who manages the library and its services. In our libraries our students have on-line access, current literature and makerspace sites to explore. Through our libraries on-line presences, our patrons are able to access current relevant research materials, current and classic reading materials and primary sources. Our research materials include Gale On-line Resources and Tex-Quest, (which includes Britannica, BrainPop, ProQuest.) These resources include Spanish language and other language translation. Our current and classic reading materials includes Brainhive, Ebsco eBooks, Follett eBooks, MackinVia and Overdrive. Also included in our resources is TeachingBooks.net, which is an easy-to-use website that adds a multimedia dimension to the reading experiences of children's and young adult books. Our primary resources are through Adam Mathew's American West and American Indian Histories & Cultures, Britannica, and Gale On-line Resources. Following a rich tradition of community involvement, the mission of MISD Libraries is to empower students to become life-long learners and productive citizens in a dynamic, global society by providing quality learning experiences that develop the knowledge, skills, abilities, and attitudes for continued success.
Please contact our department at:
Department of Instructional Technology and Library Services
2112 N. Main St.
Crockett Building C2
McAllen, Texas . 78501
956-972-5600 (Instructional Technology)
956-618-6067 (Library Services)
Find us: